GUIDE TO INFECTION CONTROL IN THE HEALTHCARE SETTING
Written by international experts in the fields of infection control and hospital epidemiology, the ISID's Guide to Infection Control in the Healthcare Setting brings together the most up-to-date principles and interventions that can reduce the rate of infection and the impact of associated consequences for patients, their families, and healthcare systems including: lengthier hospital stays; long-term disability; increased anti-microbial resistance; higher financial costs; and unnecessary deaths.
As the field of infection prevention grows in importance and the science supporting it continues to evolve, the Guide's objectives are to facilitate the implementation of effective prevention and control measures across different resource levels to improve quality of care; minimize risk; save lives; reduce costs; and limit the use of antibiotics to fight these often preventable infections around the world.
To explore the Guide click on the chapter titles below:


It is estimated that 700,000 people globally die from drug-resistant infections yearly. Unless major actions are taken this number is projected to rise to 10 million yearly by 2050 at an economic impact of 100 trillion dollars per year. This chapter summarizes facts, controversial issues and suggested practices to control the emergence of drug resistance in the healthcare setting.
The inappropriate use of antimicrobials in human medicine is widespread. This has a direct impact on antimicrobial resistance, one of the greatest threats to global health, food security, and development today. This chapter summarizes the principals of antimicrobial stewardship to optimize clinical outcomes while minimizing unintended consequences of antimicrobial use, including toxicity, the selection of pathogenic organisms (such as Clostridioides difficile), and the emergence of resistance.
The microbiology laboratory plays an important role in the surveillance, treatment, control and prevention of nosocomial infections. This chapter summarizes the role of the microbiologist in the hospital infection control committee and antimicrobial stewardship group, the technical revolution taking place inside the hospital microbiology laboratory, and its importance in disease surveillance, notification and outbreak management.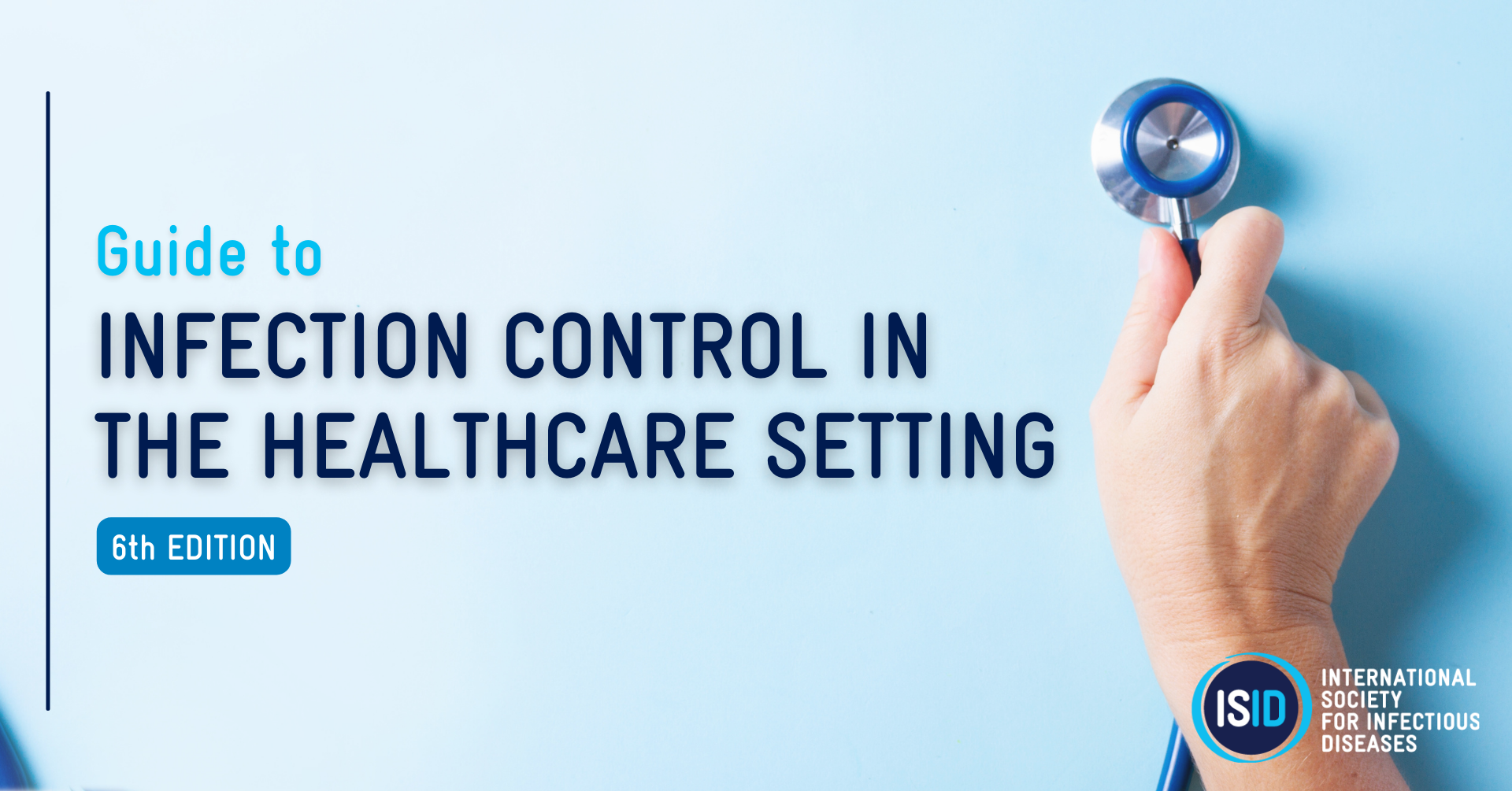 ISID's Guide to Infection Control has been immensely popular, with over 60,000 copies distributed around the world since it was first published in 1998. The ISID has freely given most of these copies to physicians, nurses, and other frontline healthcare workers in regions of the world that need it most. In 2015, the 5th edition of the Guide was made available as an open access PDF that has been downloaded by over 10,000 individuals from 160 countries. In 2019 the 6th Edition was made available on ISID's website.
Richard P. Wenzel is one of the leading infectious diseases epidemiologists in the world. Having established his reputation in the field of infection control in hospitals, he was the lead editor of the first edition of ISID's Guide to Infection Control published in 1998.
"When I was on sabbatical at the London School of Hygiene and Tropical Medicine (1985-86), I became a friend of Jean-Paul Butzler, a distinguished medical microbiologist in Brussels and recent President of ISID. He introduced me to several leading medical microbiologists throughout Europe, convinced me that a Guide to Infection Control in the Hospital would have global interest, and that I needed to edit such a document. I assembled a team of international authors who were enthusiastic supporters of the project, and my only condition was that no author or editor made money from the project and that it would be distributed free to all medical personnel in developing nations. Within a few years, we had increasing requests to translate the Guide into various languages, adding to its value. Our team at the Virginia Commonwealth University supported the Fifth Edition especially, and I am pleased to pass the baton to Dr. Gonzalo Bearman."

Richard P. Wenzel MD, MSc
18 December 2017
The Society's ambition is to update and re-publish the Guide every two years. We welcome your ideas and suggestions for improving future editions.
Gonzalo Bearman MD, MPH, FACP, FSHEA, FIDSA
Gonzalo Bearman is the Chair of the Division of Infectious Diseases, Richard P. Wenzel Professor of Internal Medicine and Hospital Epidemiologist at the Virginia Commonwealth University Health System. He is a graduate of Colgate University (BA), SUNY at Buffalo School of Medicine and Biomedical Sciences (MD) and Columbia University (MPH). He completed a residency in Internal Medicine and was Chief Resident, both at SUNY at Buffalo. He then completed a fellowship in Infectious Diseases and a residency in Preventive Medicine/Public Health, both at Cornell University. Dr. Bearman is Board Certified in Internal Medicine, Infectious Diseases, and General Preventive Medicine and Public Health.
Since 2005, Dr. Bearman has worked on the VCU Global Health Program through the Honduras Medical Relief Brigade, a medical relief effort bringing medical and public health assistance to rural Honduran communities. In 2013, Dr. Bearman launched the Medical Literary Messenger, an online magazine for humanities and medicine, where he serves as the Editor in Chief. He serves as a section editor for Current Infectious Diseases Reports and as Editor in Chief of Current Treatment Options in Infectious Diseases. From 2013-2015, Dr. Bearman was the Chair of the Society for Healthcare Epidemiology of America's (SHEA) Guidelines Committee.
His areas of research focus on the epidemiology of hospital-acquired infections. Dr. Bearman has multiple peer-reviewed publications in Annals of Internal Medicine, Archives of Internal Medicine, Archives of Medical Research, Clinical Infectious Diseases, Infection Control and Hospital Epidemiology, Journal of Clinical Microbiology, Current Infectious Diseases Reports, American Journal of Infection Control, BioMedCentral Infectious Diseases, Infections in Medicine, Journal of Rural and Remote Medicine, Journal of Hospital Infection, and Journal of Infection.
Michelle Doll, MD, MPH
Michelle Doll is an Assistant Professor of Internal Medicine at Virginia Commonwealth University (VCU) and an Associate Hospital Epidemiologist for the VCU Medical Center. She is a graduate of Jefferson Medical College and completed her medical residency and chief residency at Temple University Hospital. She went on to complete a clinical Infectious Disease Fellowship at the University of Maryland Medical Center, as well as a Hospital Epidemiology Fellowship and Masters of Public Health at VCU. She has worked as a volunteer faculty preceptor for medical students in Puentes de Salud Clinic in Philadelphia, Pennsylvania and currently at Crossover Clinic in Richmond, Virginia, both of which provide healthcare services to local under-served populations.
Shaheen Mehtar, MBBS, FRCPath (Eng), FCPath (SAfrica), MD (Lon)
Shaheen Mehtar is Professor(retired) at the Unit for Infection Prevention and Control (UIPC), Division of Global Health, Faculty of Health Sciences, Stellenbosch University, South Africa. She trained in the United Kingdom in Medical Microbiology, Infectious Disease and Community Health. She was Head of Microbiology at the North Middlesex Hospital and was a Senior Lecturer at the Royal Free Hospital. Following a post as Deputy Director of Public Health in the South Cape Karoo region, she moved to Tygerberg Hospital and Stellenbosch University where she established the Unit of Infection Prevention and Control in 2004. The Unit is well known across Africa and has trained more than 250 students annually ranging from a 5-day basic course to Master's degree programs in Infection Prevention and Control (IPC).
Prof. Mehtar is an internationally recognised expert in IPC and has been involved in setting up IPC programmes in India, the UK, Europe, Africa, the Far East, Asia, and Latin America. She has been on the executive committees of several prestigious international organisations. She currently serves on several WHO committees including those for global IPC policies, surgical site infections, WASH, and safety injection global network (SIGN).
Prof. Mehtar is a founding member, and Chair, of the Infection Control Africa Network (ICAN). Through ICAN, she is extensively involved in establishing and promoting IPC and antimicrobial stewardship training programmes and structures across Africa. She and ICAN supported the IPC programmes during the Ebola outbreak in Sierra Leone. Prof. Mehtar is a highly respected and recognised world expert in Infection Control and is frequently consulted by governments such as Egypt, Namibia, Swaziland and Zimbabwe.
She has published extensively with over 140 papers in peer review journals to her name. She has authored two books and several chapters in books; she reviews for seven highly prestigious journals on infectious diseases.
Prof. Ziad A. Memish
Prof. Ziad Memish is currently a senior consultant in infectious diseases and head of the Research Department at the Prince Mohamed Bin Abdulaziz Hospital in Riyadh, Saudi Arabia Ministry of Health; Professor at the College of Medicine in Alfaisal University, Riyadh Saudi Arabia; Adjunct Professor in the Hubert Department of Global Health, Rollins School of Public Health, Emory University, Georgia, USA; and Adjunct Professor at the Liverpool School of Tropical Medicine, Liverpool, UK.
Prof. Memish obtained his MD from the University of Ottawa, Canada in 1987 and is Board certified by the American Board of Internal Medicine, the American Board of Infectious Diseases as well as a Fellow of the Royal College of Physicians (Canada, Edinburgh and London) and the American College of Physicians. He is widely recognized as a pioneer in Mass Gathering Medicine and Infection Control and established the WHO Collaborating Center for Mass Gathering Medicine in the Ministry of Health and the WHO Collaborating Center for Infection Control in Saudi National Guard Health Affairs. He was the first Deputy Minister of Health for Public Health, KSA (2009-2014).
He has presented many abstracts and plenary talks internationally and published more than 550 peer reviewed papers and book chapters. He is the editor-in-chief of two journals: Journal of Epidemiology & Global Health published by Elsevier and indexed in PubMed and the Journal of Health Science, a flagship journal of the Saudi Commission for Health Specialties published by Medknow. He is a recipient of the King Abdulaziz Medal from the First Degree, the highest national award in Saudi Arabia for achievements in the field of infectious diseases and infection control.
Dr. Samuel Ponce de León Rosales - Associate Editor of the Spanish Edition
Dr. Ponce ce León Rosales got his Medical Degree at the Universidad Nacional Autónoma de México (UNAM).He did his residency in Internal Medicine and Infectious Diseases at the Instituto Nacional de Ciencias Médicas y Nutrición. He also holds a Master of Science from the University of Virginia (USA).
He is a Medical Professor at the Universidad Nacional Autónoma de México (UNAM), as well as Head of the Microbiome laboratory, and Coordinator of the University Program for Health Research.
He began his work on nosocomial infections in Mexico and was the first coordinator of nosocomial infections at the National Institutes of Health. He has carried out clinical research in prevention and control of infections, quality of medical care, epidemic outbreaks and infectious and emerging diseases in general. Dr. Ponce de León has 189 scientific publications in addition to 264 more chapters, scientific dissemination and essays. He was part of the Influenza pandemic Response Group and the WHO Pandemic Emergency Council. He was General Director of CONASIDA and General Director of Birmex (Health Ministry). In 2000 he received the "Gerardo Varela" Merit Award for the General Health Council Health Ministry.
He is a member of the Editorial Board of Public Health of Mexico, the Archives of Medical Research, the Pediatric Infectious Diseases open Access, and the National Geographic in Spanish.  Other memberships include the National Academy of Medicine, the Mexican Academy of Sciences, the American College of Physicians (ACP), and the International Society of Infectious Diseases (ISID) to name a few.
Victor Rosenthal, MD
Dr. Rosenthal is a specialist in Internal Medicine and Infectious Diseases in Buenos Aires. He completed an Infectious Diseases fellowship at the University of Wisconsin, USA. He is a graduate in Clinical Effectiveness from Harvard University. He is certified in Infection Control and Hospital Epidemiology.
Dr. Rosenthal is the founder and chairman of the International Nosocomial Infection Control Consortium (INICC), a nonprofit international research center which focuses on healthcare-associated infections. INICC brings together 3,000 researchers in 66 countries, spanning all six WHO regions. The consortium conducts multinational clinical studies with more than 300,000 patients.
Dr. Rosenthal has collaborated with the US Center for Diseases Control and Prevention (CDC) and currently collaborates with the Microbiology Lab of the US Navy (NAMRU) on international infection control programs. He is a co-author of the Joint Commission International Guidelines to prevent central line associated blood stream infections. He is a Task Force member and reviewer of the Infection Control Guidelines for the World Health Organization (WHO). He has collaborated to develop editions of the Infection Control Guidelines of Argentina, Brazil, Colombia, Peru, Hong Kong, Taiwan, China and several other countries.
He is an editorial board member and scientific reviewer of several international peer reviewed journals, such as the Lancet, the American Journal of Infection Control (AJIC); Infection Control and Hospital Epidemiology (ICHE); and several others. He is the author of more than 400 scientific publications and book chapters and has received several awards granted at different international scientific meetings, including SHEA, APIC, IFIC, Pan American Meetings, and others.
International
Africa
Americas
Europe
Western Pacific